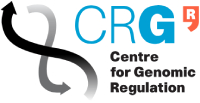 CA005798-000762
Apply now for fully funded PhD positions at Centre for Genomic Regulation (CRG) in Barcelona

Apply now for fully funded PhD positions at Centre for Genomic Regulation (CRG) in Barcelona
Apply now to boost your scientific career in the Centre for Genomic Regulation (CRG) in Barcelona. The CRG is a center of excellence with international teams representing a broad range of disciplines, with first class core technologies to support the research projects, a wide range of seminars given by high-profile invited speakers, and courses on complementary and transferable skills integrated in the training programme.
We offer 14 fully funded PhD fellowships in the following CRG labs:
Baud Lab - Social and host-microbiome systems (Nature and Nurture | Social Genetic Effects | Host-Microbiome Interactions | Big Data | GWAS | Next-Generation Sequencing | Linear Mixed Models | Rodent Models)
Dias & Frazer Lab - Probabilistic machine learning and genomics(Probabilistic Modelling of Sequence Data | Machine Learning | Human Genetic Disease | Biodiversity | Comparative Genomics | Bayesian Statistics)
Di Croce Lab - Epigenetic Events in Cancer (Chromatin Biology | Epigenetics | Gene Regulation | Cancer | Stem Cells)
Ferrer Lab - Regulatory genomics and diabetes (Enhancers | lncRNAs | Genome Editing | Beta Cell Differentiation | Single Cell Genomics | Diabetes Mellitus)
Guigó Lab - Computational Biology of RNA Processing (Transcription Regulation | Syntactic and Semantic Patterns in the Genome Sequence | Computational Biology | Bioinformatics | Statistics | Evolution Gene Expression)
Irimia Lab - Transcriptomics of vertebrate development and evolution (Comparative Genomics and Transcriptomics |Origin of Organs and Cell Types | Microexons | Evolutionary Medical Genomics)
Malhotra Lab - Intracellular Compartmentation (Tissue Engineering | Fibrosis | Ulcerative Colitis | Extracellular Matrix | Protein Secretion | Quality Control)
Ruprecht Lab - Cell and Tissue Dynamics (Mechanobiology | Morphogenesis | Cell Dynamics | Live Cell Microscopy | Bioengineering)
Sdelci Lab - The epigenetic face of cancer metabolism (Cancer Metabolism | Chromatin | Nucleus | Cell Cycle | Epigenetics)
Serrano Lab - Design of Biological Systems (Synthetic Biology | Systems Biology | Protein Design | Human Therapy)
Stroustrup Lab - Dynamics of Living Systems (Aging | Systems Biology | Molecular Genetics | Computational Biology)
Surrey Lab - Intracellular Self-Organization (Cytoskeleton | Self-organization | Molecular crowding | Phase separation | Microfabrication | Fluorescence Microsco)
Vernos Lab - Microtubule function and cell division (Cytoskeleton | Microtubules | Cell Division | Cancer | Aneuploidy)
Weghorn Lab - Evolutionary Processes Modeling (Cancer Evolution | Human Evolution | Population Genetics | Probabilistic Modeling | Selection Inference | Mutation Rate Mode)

Eligibility criteria
Candidates should fulfil the following eligibility criteria at the time of the call deadline. If it becomes clear before, during or after the evaluation phase that one or more of the eligibility criteria have not been fulfilled, the proposal is declared ineligible and is withdrawn from any further examination.
The call is open to candidates of any nationality.
Candidates must have obtained a University Degree and a Masters Degree in biomedical sciences within the European Higher Education System (minimum 300 ECTS) or an equivalent University Degree that allows to start a PhD thesis in Spain. Candidates who expect to be awarded with such degree by September 2023 are eligible to apply.
Candidates must have an excellent academic record, previous research experience and a strong commitment for scientific research.
Candidates must have a high working knowledge of English.
Candidates invited to previous CRG PhD call interviews are not eligible.
Candidates performing their Masters at the CRG are not eligible.
Candidates may not have worked at the CRG for more than 3 months before the call deadline.
How to apply
Applications must be submitted online.
Candidates must register in order to use the online application system.
The online application form requests all of the necessary information for the initial stages of the selection process (General information, education, coursework, honours, scholarships, prizes and awards, research experience, scientific interests and reference letters).
If the academic transcripts are not in Catalan, Spanish or English applicants should also attach a translation in one of the above mentioned languages.
Two reference letters will be automatically requested to the referees proposed by the candidate through the online system.
Applicants should select a maximum of 2 labs in which they would like to work. 
Candidates must ensure that all information and documents are included before the deadline, including the reference letters. Incomplete proposals will not be considered.
Once the application is submitted, an acknowledgement of receipt will be automatically sent by e-mail to the applicant.
For any additional information, please check the FAQs.
Selection process
The selection of the fellows will be based on the candidates' academic qualifications and research excellence.
Pre-selection: The pre-selection will be based on the candidate's CV, reference letters and on the research interests. Complete applications will be reviewed within a month after the deadline.
Oral interviews: The interviews will take place from the 6th to the 9th March 2023, in a virtual format. Please be aware that during all those days, interviews and important presentations will take place. Full details regarding the interview process will be sent to invited candidates 4 - 6 weeks after the application deadline.
Notification to candidates: Offers will be made to the successful candidates short after the interview. Successful candidates would be expected to start the PhD latest by October 2023.
CRG PhD Call Timeline

Fellowships available
Selected PhD students will receive an annual work contract with a competitive salary that will be renewed annually for a maximum of 4 years following the applicable national regulations. All PhD students will receive full health and occupational insurance coverage and will be included in the Spanish Social Security System.
Contact
For any additional information, please contact the CRG Training & Academic Office at: training@crg.eu.
You haven't included a message. Providing a specific message means universities will take your enquiry more seriously and helps them provide the information you need.
Why not add a message here
The information you submit to this university will only be used by them to deal with your enquiry. For more information on how we use your data, please read our privacy statement
×