CA000725-000300
EPSRC and NERC InDustrial CDT for Offshore Renewable Energy (IDCORE)

EPSRC and NERC InDustrial CDT for Offshore Renewable Energy (IDCORE)
Apply links now open for September 2024 Entry
A jointly awarded Doctorate in Engineering from the University of Edinburgh, Exeter University and Strathclyde University, offering ten places per year funded by the UK Engineering and Physical Sciences Research Council.
Over four years IDCORE students follow a fully integrated programme of intensive, doctoral level, taught courses in electrical, mechanical and offshore engineering, business, economics, marine biology, renewable energy resources, and societal impacts, and a, three year, industry based research project. The courses have a strong focus on problem based learning and are designed to develop practical, team working and transferable skills alongside technical expertise. Each research project is sponsored, and led by an offshore renewable energy company. Project sponsors range from large multinational companies to very small enterprises. They represent energy companies, supply chain companies, certification agencies, consultants, test centres and original equipment manufacturers.
Throughout the projects students not only have access to facilities provided by their sponsoring companies, but also to the world leading research facilities of the partner Universities. All students are supervised by an industrial supervisor and academic supervisors from the three partner Universities. Students eligible for EPSRC funding will receive an enhanced, tax free, stipend rate, designed to compare favourably with graduate job salaries. Our graduates have excellent job prospects with most continuing to work in the offshore renewable energy sector after graduation.
Important Note: Whilst IDCORE will open for applications in October as normal, we are currently applying for additional funding from the Engineering and Physical Sciences Research Council, in line with all EPSRC funded CDTs. We will know if our funding application has been successful in late December, until then any offers of admission we make will be "Conditional on funding" (in this case it is OUR funding application which needs to succeed, you need only to wait for news from us). We still encourage you to apply early as we will hold interviews and make offers from November onwards..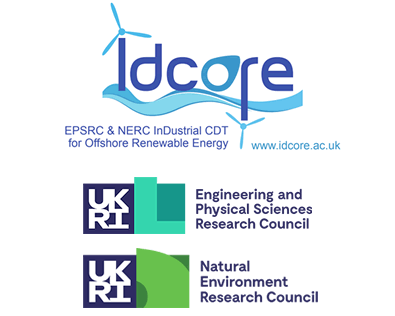 Why Join Us
Undertake a practical research programme that will contribute to the advancement of Offshore Renewable Energy,
Receive high quality training in all aspects of Offshore Renewable Energy,
Become part of a company in the sector,
Broaden your knowledge and skills in an industry with excellent employment opportunities,
Become part of a life-long cohort of people who are passionate about offshore renewable energy.