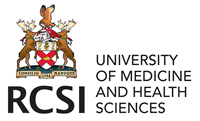 CA004632-000206
Our Mission: to Educate, Nurture and Discover for the benefit of Human Health

RCSI University of Medicine and Health Sciences
Our Mission: to Educate, Nurture and Discover for the benefit of Human Health
Founded in 1784 as the professional body for surgical training in Ireland, RCSI has evolved in the years since to become one of the world's leading health sciences universities.
RCSI is globally unique in combining the deep clinical and health systems insights of a national professional body with the educational and research expertise of a world-leading health sciences university.
RCSI is a not-for-profit University with a global reach and educational delivery in Ireland, the Middle East and Southeast Asia. For each of the last six years, RCSI has maintained its position among the Top 250 universities worldwide in the Times Higher Education (THE) World University Rankings. RCSI is ranked joint second in the world by THE on the basis of our contribution to Sustainable Development Goal (SDG) 3 'Good Health and Well-being'.
RCSI is a research-intensive university. We receive competitive funding from government agencies and other sponsors in Ireland and internationally to undertake high-impact clinical, patient-centred research projects. RCSI researchers are recipients of significant European Research Council grants and, as an institution, RCSI has the highest success rate in the EU Horizon 2020 of any Irish institution.
Our research agenda drives scientific breakthroughs, innovations and insights that allow us to understand and respond to changing healthcare needs in areas such as Biomaterials and Regenerative Medicine, Cancer, Neurological and Psychiatric Disorders, Population Health and Health Sciences, Surgical Science and Practice, and Vascular Biology.
Discover the flexible and innovative programmes on offer at postgraduate level in RCSI, where you can expect:
Excellent opportunities to develop as a leader in your chosen field
A collaborative community of clinicians and researchers
World-class study and research facilities

Learn to lead in healthcare with one of our Taught Postgraduate courses.
Offered from Certificate to Masters level, our multi-disciplinary programmes are as diverse as your career goals.
Ranked no.1 in Ireland for citation rate, our cutting-edge research is aimed at solving some of the greatest challenges of modern healthcare.
Join RCSI at PhD, MD, MSc or MCh level and help drive our research for the benefit of patients.