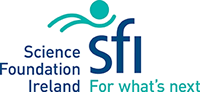 CA004512-003140
SFI Centres for Research Training
SFI Centres for Research Training
SFI Centres for Research Training, funded by Science Foundation Ireland, provide funding for the training of postgraduate students in areas of identified skills needs. Building on research excellence, the purpose of the Centres is to provide cohorts of academically outstanding future research leaders with the skills and knowledge required to address the future challenges of an ever-changing work environment.
The six SFI Centres for Research Training represent a government investment of over €100 million. The first postgraduate training programme run by Science Foundation Ireland, it will provide training for 700 postgraduate students over a number of years, ultimately developing a pipeline of highly-skilled, well-networked research talent.
SFI Centres for Research Training Call operate on a thematic basis, accepting applications aligned with the broad area of Data and ICT Skills for the Future. The scope of this thematic area encompasses the development of innovative software- and hardware-based information and communications technologies (ICT) as well as the diffusion of ICT as a key enabling technology in other application areas of science and technology.
A defining feature of the programme is its annual intake of students in a cohort model, which undergo integration to expose students to the wider scientific relevance of their research.
Participating Centres