Prof J M D Storey

,

Prof C T Imrie
Applications accepted all year round
Self-Funded PhD Students Only
---
About the Project
The nematic phase (N) is the least ordered liquid crystal phase, and in which the long axes of the rod-like molecules are more or less aligned in the same direction, known as the director, whereas their centres of mass are randomly distributed. This phase is easily replicated by throwing a handful of matches into a box and shaking it. Providing there are enough matches, then, for packing reasons, they will all line-up in the same direction and effectively you have a nematic phase. Providing the matches were thrown into the box randomly, there will be an equal number of matches pointing with their heads in one direction as in the other. This is exactly the case for the conventional nematic phase, and the molecules are equally likely to be pointing in either direction along the director, and the phase is described as being non-polar. The conventional N phase underpins liquid crystal display technology which has a market value predicted to grow to almost $200 billion by 2025. Over 100 years ago, it was first suggested that a nematic phase could exist in which all the molecules could align in the same direction. This is the molecular equivalent of taking the matches, throwing them into the box, shaking it, and discovering that all the matches now lay with their heads pointing in the same direction. This is known as polar ordering and the phase is called the ferroelectric nematic (NF) phase. Very recently a new nematic phase was discovered having remarkable properties, and it has been suggested that this is the long sought after NF phase. The polar ordering in the NF phase makes it vastly more sensitive to an electric field than the conventional N phase, and this will dramatically improve the performance of liquid crystal display devices in terms of both speed and power consumption. The aim of this programme is to begin to understand what molecular features are required to observe the NF phase. Some time ago computer simulations suggested that an asymmetric or tapered shape combined with a longitudinal dipole moment promote polar order, and the very early experimental data available support this view. To achieve our aim, we will need to enhance our understanding of how to manipulate liquid crystallinity though molecular electrostatic and steric interactions.
This project will involve the synthesis of new materials, their physical characterisation and molecular modelling. Our approach to the design and synthesis of new liquid crystal phases, and their use in new types of applications is shown in the references [1-6]. The balance between organic synthesis and physical characterisation in this project can to some extent be tailored to meet an individual's interests.
Selection will be made on the basis of academic merit. The successful candidate should have, or expect to obtain, a UK Honours degree at 2.1 or above (or equivalent) in chemistry.
Formal applications can be completed online: https://www.abdn.ac.uk/pgap/login.php
• Apply for Degree of Doctor of Philosophy in Chemistry
• State name of the lead supervisor as the Name of Proposed Supervisor
• State 'Self-funded' as Intended Source of Funding
• State the exact project title on the application form
When applying please ensure all required documents are attached:
• All degree certificates and transcripts (Undergraduate AND Postgraduate MSc-officially translated into English where necessary)
• Detailed CV, Personal Statement/Motivation Letter and Intended source of funding
Informal inquiries can be made to Professor J Storey ([Email Address Removed]) with a copy of your curriculum vitae and cover letter. All general enquiries should be directed to the Postgraduate Research School ([Email Address Removed])
---
Funding Notes
This PhD project has no funding attached and is therefore available to students (UK/International) who are able to seek their own funding or sponsorship. Supervisors will not be able to respond to requests to source funding. Details of the cost of study can be found by visiting https://www.abdn.ac.uk/study/international/finance.php
---
References
1. Abberley JP, Killah R, Walker R, Storey JMD, Imrie CT, Salamonczyk M, Zhu CH, Gorecka E, Pociecha D. Heliconical smectic phases formed by achiral molecules. Nature Communications. 2018;9:228.
2. Salamonczyk M, Vaupotic N, Pociecha D, Walker R, Storey JMD, Imrie CT, Wang C, Zhu CH, Gorecka E. Multi-level chirality in liquid crystals formed by achiral molecules. Nature Communications. 2019;10:1922.
3. Walker R, Pociecha D, Storey JMD, Gorecka E, Imrie CT. The Chiral Twist-Bend Nematic Phase (N*(TB)). Chemistry-a European Journal. 2019;25:13329-35.
4. Xiang J, Li YN, Li Q, Paterson DA, Storey JMD, Imrie CT, Lavrentovich OD. Electrically Tunable Selective Reflection of Light from Ultraviolet to Visible and Infrared by Heliconical Cholesterics. Advanced Materials. 2015;27:3014-8.
5. Xiang J, Varanytsia A, Minkowski F, Paterson DA, Storey JMD, Imrie CT, Lavrentovich OD, Palffy-Muhoray P. Electrically tunable laser based on oblique heliconical cholesteric liquid crystal. Proceedings of the National Academy of Sciences of the United States of America. 2016;113:12925-8.
6. Aya S, Salamon P, Paterson DA, Storey JMD, Imrie CT, Araoka F, Jakli A, Buka A. Fast-and-Giant Photorheological Effect in a Liquid Crystal Dimer. Advanced Materials Interfaces. 2019;6:1802032.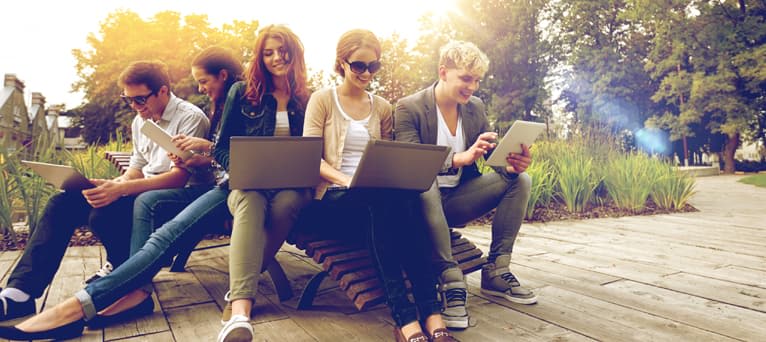 Search suggestions
Based on your current searches we recommend the following search filters.
Check out our other PhDs in Aberdeen, United Kingdom
Check out our other PhDs in United Kingdom
Start a New search with our database of over 4,000 PhDs