Quantifying and managing multi-taxon range shifts in marine reef ecosystems
---
Prof Maria Beger

,

Dr P. Forster
No more applications being accepted
Competition Funded PhD Project (UK Students Only)
---
About the Project
This PhD project will employ cutting-edge modelling and unique marine datasets to model range shifts of marine species under climate change and develop novel conservation mechanisms to manage them. The work will require collaboration with institutions in Japan.
Background
Climate change threatens tropical coral reefs globally (Dixon et al. 2022). Subtropical and temperate reef ecosystems differ from their tropical coral reef neighbours, as they are shaped by a biogeographical overlap of taxa at their range margins, endemic species, and by strong seasonality (Sommer et al. 2014). Tropical species are starting to transform the biological communities living on high-latitude reefs (Verges et al. 2014) and their functions (Floyd et al. 2020). Subtropical and temperate reefs may serve as climate change refugia for vulnerable tropical coral reef species, giving them high, but as yet unrealized, conservation priority (Beger et al. 2014, Makino et al. 2014, Kumagai et al. 2018).
Subtropical reef communities are shaped by highly seasonal marginal environmental conditions (Nozawa et al. 2008, Yamano et al. 2011, Beger et al. 2014, Muir et al. 2015), and, increasingly they are exposed to climate-related environmental stressors (Harrison et al. 2011, Dixon et al. 2022). For example, scleractinian coral communities change along the tropical to temperate gradients according to their traits (Sommer et al. 2014, Sommer et al. 2018). Similarly, the functional scopes of fishes (Clay unpublished), molluscs (Floyd et al. 2020), echinoderms (Cook unpublished), and octocorals and zoantharians (Otis unpublished) change with environmental conditions. Therefore, quantifying the drivers of community assembly on subtropical reefs is an important prerequisite to predict how high-latitude reefs may be affected by climate change, and to develop conservation plans.
The management and conservation of tropicalising reefs is challenged by the dynamism of the environment, and changes in community structure that already affect industries. For example, Japanese fishers lose their traditional algae fishery as kelp habitats decline and the target algae are replaced by coral communities or barrens. Protected areas have the potential to delay tropicalisation (Bates et al. 2014), and there may be options to protect sites that experience the least change, or an approach where such protected areas are accompanied by dynamic area-based protection measures (Tittensor et al. 2019).
Objectives
This PhD project will move from modelling to forecasting relationships between biota and their physical environment, evaluating how species and functional niches have responded to specific environmental and biotic drivers over time. This work will use existing data for multiple taxa in Japan, and focus on fishes, hard corals, molluscs, echinoderms, algae, and soft corals. We anticipate that a strong component will be to develop new conservation theory for dynamic spatial planning. The project takes a theoretical and quantitative approach, however the opportunity for fieldwork may arise. Depending on the interests of the successful candidate, specific questions include:
1. What are the trajectories of climate change exposure for subtropical and temperate reefs in Japan?
2. Hindcasting: have reef communities changed according to our predictions between 2015 and 2023?
3. Forecasting: are future changes in functional scopes similar across taxa?
4. Given known and predicted distributions, where are priority sites for marine protected areas in Japan?
The project's interdisciplinary approach involving experts in the disparate fields of physical sciences, ecology and conservation science, and its novel combination of existing datasets will allow to advance our ability to manage these ecosystems. There is the expectation that this work will directly affect marine conservation in Japan.
The PhD will be supervised by Associate Professor Maria Beger (lead, Leeds, School of Biology, UK), Professor Piers Forster (Leeds, School of Earth and Environment, UK), and Associate Professor James Reimer (University of the Ryukyus, Japan). These are world-leaders in their fields with excellent track records in training PhD students and publishing high impact research. The project offers the opportunity to develop an interdisciplinary skill set in conservation science, marine ecology and climate science, and offers specialist training in processing and modelling large climate and ecological datasets and skills in spatial conservation decision making and commonly used decision support software, e.g., Marxan and prioritizR.
You will also have access to a range of training workshops that cover technical and broader professional development skills, and you will present your research at international scientific conferences. Engagement with Japanese management agencies and collaborating scientists is part of the project. You will benefit from expertise within the School of Biology, and from being a member of the Priestley International Centre for Climate at the University of Leeds, a globally leading centre for climate research. The Centre convenes over 150 academics within the university, delivering excellent research to underpin global climate solutions. As part of the Centre you will benefit from bespoke training opportunities, visits from world leading researchers and a vibrant interdisciplinary cross-campus student environment. These experiences will put you in a strong position to pursue a successful career in conservation and quantitative ecology.
How to apply
For details of eligibility criteria and how to apply please go to https://phd.leeds.ac.uk/funding/209-leeds-doctoral-scholarships-2023
When submitting your application please be aware this is a 2 step process, and you must complete the PhD degree application before submitting your scholarship application. All applications should be submitted to the Faculty of Biological Sciences. Please list the project title and name of the lead supervisor on your application to help us direct this to the correct academic team for consideration.
---
Funding Notes
This is a competition funded studentship where funding may be obtained by applying for a Leeds doctoral scholarship
Further details can be found at: https://phd.leeds.ac.uk/funding/209-leeds-doctoral-scholarships-2023
The deadline for applications is 1st March 2023.
Applications from self-funded students are also welcome
---
References
Bates, A. E., N. S. Barrett, R. D. Stuart-Smith, N. J. Holbrook, P. A. Thompson, and G. J. Edgar. 2014. Resilience and signatures of tropicalization in protected reef fish communities. Nature Climate Change 4:62-67.
Beger, M., B. Sommer, P. L. Harrison, S. D. A. Smith, and J. M. Pandolfi. 2014. Conserving potential coral reef refugia at high latitudes. Diversity and Distributions 20:245-257.
Dixon, A. M., P. M. Forster, S. F. Heron, A. M. K. Stoner, and M. Beger. 2022. Future loss of local-scale thermal refugia in coral reef ecosystems. PLoS Climate 1:e0000004.
Floyd, M., M. Mizuyama, M. Obuchi, B. Sommer, M. Miller, I. Kawamura, H. Kise, J. D. Reimer, and M. Beger. 2020. Functional diversity of reef molluscs along a tropical-to-temperate gradient Coral Reefs 39:1361–1376.
Harrison, P. L., S. J. Dalton, and A. G. Carroll. 2011. Extensive coral bleaching on the world's southernmost coral reef at Lord Howe Island, Australia. Coral Reefs 30:775-775.
Kumagai, N. H., J. García Molinos, H. Yamano, S. Takao, M. Fujii, and Y. Yamanaka. 2018. Ocean currents and herbivory drive macroalgae-to-coral community shift under climate warming. Proceedings of the National Academy of Sciences 115:8990.
Makino, A., H. Yamano, M. Beger, C. J. Klein, Y. Yara, and H. P. Possingham. 2014. Spatio-temporal marine conservation planning to support high-latitude coral range expansion under climate change. Diversity and Distributions 2014:6-12.
Muir, P. R., C. C. Wallace, T. Done, and J. D. Aguirre. 2015. Limited scope for latitudinal extension of reef corals. Science 348:1135-1138.
Nozawa, Y., M. Tokeshi, and S. Nojima. 2008. Structure and dynamics of a high-latitude scleractinian coral community in Amakusa, southwestern Japan. Marine Ecology-Progress Series 358:151-160.
Sommer, B., M. Beger, P. Harrison, R. Babcock, and J. M. Pandolfi. 2018. Differential response to abiotic stress controls range limits at biogeographic transition zones. Ecography 40:001–012.
Sommer, B., P. L. Harrison, M. Beger, and J. M. Pandolfi. 2014. Trait-mediated environmental filtering drives assembly at biogeographic transition zones. Ecology 95:1000-1009 
Tittensor, D. P., M. Beger, K. Böerder, D. Boyce, R. Cavanagh, A. Cosandey-Godin, G. O. Crespo, D. Dunn, W. Ghiffary, S. M. Grant, L. Hannah, P. Halpin, M. Harfoot, S. G. Heaslip, N. W. Jeffery, N. Kingston, H. K. Lotze, E. McLeod, J. McGowan, C. J. McOwen, B. C. O'Leary, L. Schiller, R. R. E. Stanley, M. Westhead, K. L. Wilson, and B. Worm. 2019. Integrating climate adaptation and biodiversity conservation in the global protected ocean. Science Advances 5:eaay9969.
Verges, A., P. D. Steinberg, M. E. Hay, A. G. B. Poore, A. H. Campbell, E. Ballesteros, K. L. Heck, D. J. Booth, M. A. Coleman, D. A. Feary, W. Figueira, T. Langlois, E. M. Marzinelli, T. Mizerek, P. J. Mumby, Y. Nakamura, M. Roughan, E. van Sebille, A. Sen Gupta, D. A. Smale, F. Tomas, T. Wernberg, and S. K. Wilson. 2014. The tropicalization of temperate marine ecosystems: climate-mediated changes in herbivory and community phase shifts. Proceedings of the Royal Society B-Biological Sciences 281.
Yamano, H., K. Sugihara, and K. Nomura. 2011. Rapid poleward range expansion of tropical reef corals in response to rising sea surface temperatures. Geophysical Research Letters 38:L04601.
---
How good is research at University of Leeds in Biological Sciences?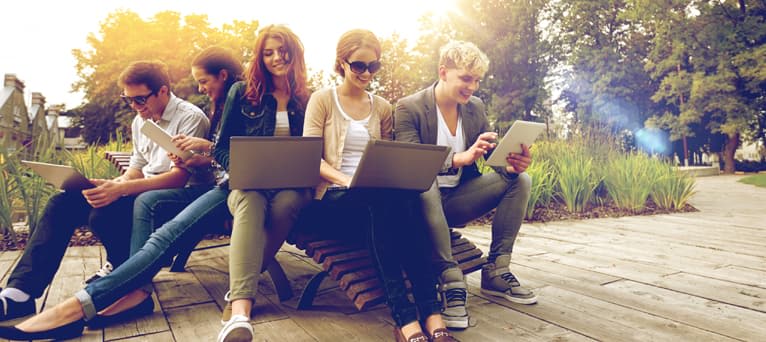 Search suggestions
Based on your current searches we recommend the following search filters.
Check out our other PhDs in Leeds, United Kingdom
Check out our other PhDs in United Kingdom
Start a New search with our database of over 4,000 PhDs