Written by Ben Taylor
Have you been asking yourself recently: "Should I do a PhD?" Well, there are lots of good reasons to do one, from wanting to make an original contribution towards your discipline and achieving your career ambitions through to a passion for research and a desire to accomplish something big.
This page will walk you through a selection of the most common reasons for pursuing a doctorate, along with some of the main PhD benefits.

A common reason to do a PhD is to improve your employment prospects. You may wonder why doing a PhD will help? As the highest academic qualification, a PhD degree can unlock career opportunities that wouldn't necessarily be available to candidates with only a Bachelors or Masters.
This is particularly true for jobs that require expertise and experience in research techniques. There are few better ways to prepare for a career in research than with the dedication and knowledge needed to complete a PhD thesis.
If you want to work in academia as a lecturer or university researcher, a PhD is usually one of the main requirements. The degree shows that you have the necessary expertise to thrive in a university department.
Of course, there are plenty of directions outside of academia that a PhD could lead you. PhD holders can be found across all business sectors.
Should I do a PhD to help my employability?
Our guide to PhD employability has more information on career prospects and average salaries for people with PhDs.
There's a lot more to doing a PhD than simply writing a dissertation and completing your viva. We've looked at why doing a PhD can help equip you with transferrable skills such as:
Presentation and public speaking skills – you might have the opportunity to present your work at academic conferences or at public engagement events, which can be a useful experience whatever your future career plans
Teaching – most PhDs allow research students to teach at an undergraduate level
Time management – successfully juggling the various responsibilities of a PhD is a genuinely impressive achievement that will be recognised by future employers
Networking – over the course of your PhD, you're likely to meet plenty of experts and professionals, giving you the chance to forge new relationships that could prove useful in the future
These kinds of skills will be valuable and sought-after by employers once you've finished your PhD, whether or not you decide to stay in the world in academia.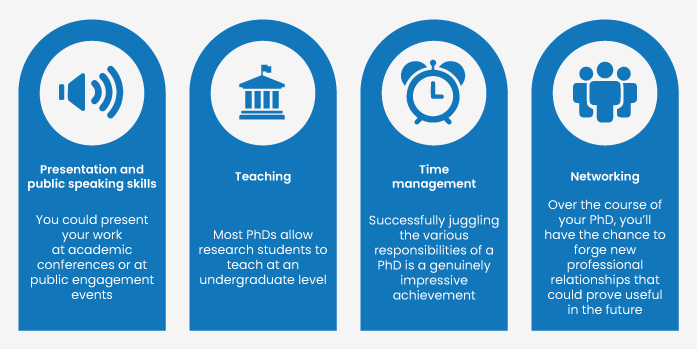 This is perhaps the most personal motivation for doing a PhD: the enjoyment and sense of fulfilment that you get from researching a subject that you love. And it's certainly not a bad reason, although you should generally make sure that you have a clear idea of what you'd like to do once you've finished your PhD.
If you're looking for a new challenge to help your individual development, a PhD is a pretty unique prospect. There aren't many other experiences in education that involve such a high degree of commitment – and reward!
At this point, it's also important to be completely honest with yourself about why you want to do a PhD, asking yourself "Do I need to study a PhD?" and "Why do I want to do a PhD?" You need to make sure that you're not being motivated by the wrong factors.
For example, you shouldn't let yourself feel pressured by what your peers and family expect of you (or what you think they expect of you). Just because you know plenty of people with PhDs doesn't necessarily mean a doctorate is the right path for you.
Similarly, wanting a 'break' from a job you don't enjoy can be another bad reason to do a PhD. A PhD involves a lot of hard work and dedication, as well as funding, and is not a commitment to be taken lightly. This means it's unsuitable for being treated as a stopgap measure for your job dissatisfaction (unless, of course, you have plans for what you want to do with the knowledge and experience you gained during your PhD once you've finished).
And it goes without saying that the desire to have 'Doctor' on your bank cards and driving licence shouldn't be the primary reason for doing a PhD (although it can be seen as a nice perk once you've finished!).
One of the most obvious reasons to do a PhD is the desire to make an original contribution to your subject. After all, this is a defining quality of a PhD that sets it apart from other university qualifications. The goal is create something new and significant that will stand alongside the work of previous scholars in your field.
The effect of this contribution could be to open up new avenues of research or to shed light on previously underappreciated topics. Chances are you'll end up working on a substantial project that may end up becoming a reference point for future academics and students, which is why doing a PhD is worth it!
Ultimately, deciding whether to do a PhD is an incredibly personal decision, and one that can only made by one person – you! Don't let yourself be swayed by peer pressure (or simply the fact that plenty of your friends have doctorates).
There are a few questions worth asking yourself when considering why you want to do a PhD. Firstly, you should consider whether the PhD aligns with your long-term goals. Where do you see yourself in 10 years? Will the subject of your research still be a part of your professional or academic life?
Secondly, it's worth thinking about the feasibility of funding for your proposed project. It's no secret that securing funding for a PhD is a competitive process. Are you fully aware of all the funding options available to you? If not, you're in the right place – our funding guides cover everything from Research Council studentships to PhD loans.
Finally, it pays to be conscious of the commitments required by a PhD. So, now when you ask yourself "Should I get a PhD?", hopefully you have an informed answer.
Are you ready to take on the responsibilities needed to make your PhD a success? Our guide to the PhD journey should shed a light on the kind of challenges you're likely to face while completing a doctoral degree.
Doing a PhD
Want to find out more about what it's like to do a PhD? Check out our comprehensive guide to the stages of your PhD journey.

Last Updated: 03 December 2021