A Simple Introduction to PhD Funding
Written by Mark Bennett
Funding for PhD study is a little more complicated than it is for other degrees. There are lots of different ways a student can be funded and your situation may also change during the 3-4 years (or more) it takes to complete a doctorate.
This short guide is here to introduce PhD funding as a whole, explaining how it works for different types of project and student. We've also outlined a good route to take for your funding search and suggested a few things to bear in mind.
Think of this page as your 'PhD funding 101' and remember that there's more detailed information about specific funding options elsewhere on FindAPhD.
Get your funding questions answered at our study fairs
Join us in person at one of our UK events in February and get your PhD funding questions answered. Choose from Birmingham, Liverpool or London.
Let's start with the obvious question: who might actually help you pay for a PhD? All sorts of organisations provide funding and grants for doctoral research, but we can divide them into a few broad types: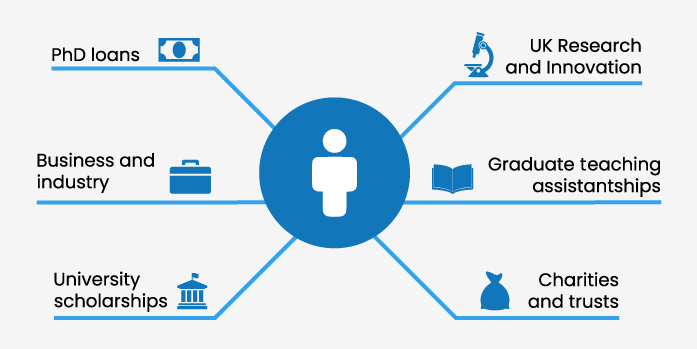 Government bodies often provide some of the most generous PhD studentships. Their goal is to support national research objectives and train people (like you) to carry them out. In the UK the biggest government funder is UK Research and Innovation (UKRI) but other countries all have similar organisations. Access to this kind of funding is limited and competitive.
Student finance is sometimes available to help students who aren't able to receive a full studentship, but doesn't normally cover the full cost of a PhD. The UK offers a PhD loan of up to £28,673. Some banks and other private lenders also offer commercial loans for postgraduate study.
Universities usually have funding of their own to offer potential PhD students. This might take the form of a small fee discount (often for alumni) or limited grant for living costs. Or it might be a full studentship funded out of the university's own research budget.
Graduate teaching assistantships – Some university funding is provided in return for teaching, research assistantship or other work (this is quite common in Europe and North America).
Independent charities and trusts often fund PhD study that supports their wider goals (such as medical research, heritage preservation or increasing access to education). The support they offer varies hugely and isn't usually full funding (except when it is).
Business and industry will occasionally support PhD students whose work has potential benefit for their commercial objectives. Sometimes this funding will be offered to current (or prospective) employees.
All of these other slightly different types of PhD funding ranging from loans that need to be repaid to full studentships, PhD funding grants and smaller scholarships (that don't).
It's sometimes possible to work alongside a PhD, but this is rarely a practical (or sensible) source of full funding, so we haven't listed it above.
Now that you know where PhD funding comes from, let's think about how this looks from a student's point of view. We're generalising again, but there are roughly three types of funding situation:
Fully-funded students are as lucky as that name suggests. They have a full studentship covering their PhD fees along with more or less all of their living costs and other expenses. They probably aren't drinking champagne every night, but they don't need to worry too much about the cost of their PhD.
Partially-funded students are those that receive a partial scholarship or studentship (usually contributing to fees or living costs, but not both). They usually need to top up their funding with other grants and / or rely on some of their own savings / earnings.
Self-funded students aren't receiving any substantial funding and are therefore paying for a PhD themselves using a combination of student loans (which must be repaid) savings or earnings.
Which group you fit into will depend on a lot of factors, but it won't necessarily be determined by your subject. It's true that STEM (Science, Technology, Engineering and Mathematics) students tend to be fully funded (it's harder to self-fund in these fields) but not all fully funded students are doing STEM research.
You may also find that your situation changes during your PhD. It's possible to begin as a self-funded student and win partial (or even full) funding later on.
Knowing a bit more about how PhD funding works will help you make sense of a (potentially) confusing range of options. But where do you go from here?
The following is a very general route. It assumes that you're just starting out with your funding search (perhaps whilst working on your overall PhD application). Chances are you're already some way along, in which case you can skip a few steps.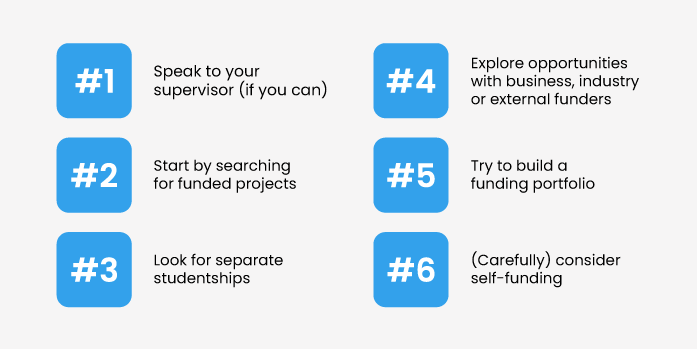 #1 Speak to your supervisor (if you can)
It's best not to contact a potential supervisor just to talk for funding, but if you're already in conversation with one it makes sense to get their advice on your search. They'll have a good idea what is and isn't worth focussing on and they may also know about specific funders or scholarships for your field.
#2 Start by searching for funded projects
Lots of PhD projects are actually advertised with funding attached. They're much more common in STEM, but that doesn't mean there aren't any in subjects like English, Philosophy or Sociology. Find one and your funding search gets a lot simpler.
#3 Look for separate studentships and PhD bursaries
You might be proposing your own PhD topic or considering applying for an advertised project without funding (or with funding you aren't eligible for). Either way, the next step is looking for a studentship or scholarship to 'attach' to your PhD.
The best place to look for one is probably your university. They'll have awards of their own but will also distribute government funding (such as UK Research Council studentships) or larger charitable grants and bursaries.
#4 Explore opportunities with business, industry or external funders
In some fields this should really be step #1, but you'll know if so (or your supervisor will tell you). Otherwise, this option is worth a try if you've got this far without finding full funding.
Try to think of relevant companies or organisations that might take an interest in your research or its results. Common sense can guide you here: it's unlikely that an automotive manufacturer will pay for your PhD in eighteenth-century lyric poetry; equally, the Arts Council probably won't help you design a new electric car.
#5 Try to build a funding portfolio
By this point you've moved from looking for full funding to looking for partial funding (at least for now). There are still lots of options available to you though, in the form of smaller PhD funding grants and fee waivers.
Your university may be able to help here, either through a fee discount or a partial scholarship. Now is also the time to be approaching smaller charities and trusts (of which there are many).
#6 (Carefully) consider self-funding
It's perfectly possible to pay for a PhD yourself, particularly if you're in a field that lends itself to flexible working and lower research expenses (the Arts and Humanities are the classic example here, but there are others).
Self funding isn't easy though. PhD loans and part-time work can offset a lot of your fees and day-to-day expenses, but you'll never be able to completely ignore the financial side of things.
Our advice would be to discuss things with a prospective PhD supervisor and get their advice on the amount of time you'll have for work, as well as how realistic it might be to find more complete funding later in your project.
How do you apply for PhD funding?
Once you've identified potential PhD funding, the next step is to put in an effective application. Our guide explains how.
Hopefully by now you have a better idea how PhD funding works and where to get started with your search. We recommend you spend some time with our more detailed funding guides but here are a few general tips to keep in the back of your head as you set off:
Funding situations and statuses change – and usually for the better! You might not win a full studentship in your first year, but many funders will consider applications from existing students.
PhDs are long – and just because your funding situation can improve doesn't mean that it will. If you start out self-funding you should be able to finish your doctorate that way, even if you're hoping not to.
Living costs and expenses are usually the biggest challenge – PhD fees are quite low (at least compared to other degrees) and might be as little as £4,000-5,000. There's more to the cost of a PhD than fees though. You've got to support yourself for several years of research (see above). This is actually where funding is most important.
Part-time study makes things more manageable, not cheaper – going part-time will typically half your annual PhD fees and make it easier to work alongside your research. But it will also increase the length of your PhD and add additional maintenance expenses.
(Most) funding can be combined – there are a couple of exceptions, but anything that isn't a full studentship can usually be topped up with other grants or loans. Basically, unless it says you can't, you probably can. This is the key to building a funding portfolio.
Funding changes – the past few years have seen the introduction of PhD loans and the announcement of government studentships for international students – and that's just in the UK. When it comes to PhD funding it can literally pay to stay updated.
So there you have it: a quick and – hopefully – simple introduction to funding a PhD. Why not take a look at our detailed guides to different types of funding, or our advice on funding applications. You can also find student stories, news and advice on our blog.
Last Updated: 13 January 2023