How to Write an Abstract for a Dissertation
Written by Hannah Slack
Every PhD student will have to write an abstract. Whether it's for a conference paper, journal article or your thesis, the abstract is an important part for many academic activities. Although only a single short paragraph, writing one effectively takes practice.
This page will take you through what a dissertation abstract is, why it's so important and how to write one.
An academic abstract is a short and concise summary of research. It should cover the aim or research question of your work, your methodology, results and the wider implications of your conclusions. All this needs to be covered in around 200-300 words.
One of the common mistakes people make when writing abstracts is not understanding their purpose. An abstract is not for the author, it's for the reader. To summarise your research, as the person who knows it best, may seem easy. But to be able to communicate the complexities and importance of your work to someone else, likely outside of your field, can be difficult.
When will I need to write an academic abstract?
There are many different places that you'll find abstracts. Some of the most common ones include:
Grant and funding applications
Conference proceedings
This guide primarily focuses on the dissertation abstract, which is the most common form of this kind of text.
What's the difference between an abstract and an introduction?
The main differences between a PhD dissertation abstract and an introduction are the purpose and the length. An abstract is a short, paragraph-sized summary of the whole thesis, covering context, your research and results. Whereas an introduction should be much longer and only cover the context of your work. An introduction is designed to explain the background of your work and so will take up at least an entire page.
Why are abstracts important?
Abstracts are important because they are a quick and easy way to communicate your work. In many ways, academic abstracts are a promotional tool and so should be considered carefully.
For your thesis, it's the first thing your examiners will read, forming their expectations for the rest of the dissertation.
In journal articles, their purpose is to convince the reader that they should read your article. If you're applying for a conference, the abstract gives the organiser a taster of your paper so they can decide whether it's suitable.
Effectively, your abstract is the first impression someone gets of your research and so it's important to put your best foot forward.
How to write a PhD abstract
How you write a dissertation abstract will largely depend on what it's for. For a PhD dissertation or journal article, you should have already written up the research which the abstract will summarise. You should focus on making sure your summary is an honest representation of the larger written work. However, for a conference application it's likely you won't yet have written the paper. In this instance, the abstract might focus more on the broader themes you intend to comment on and your methodology.
Whatever the intended purpose, all abstracts should broadly follow the same structure. To help you, we've put together a template to make sure you include all the important points.
PhD abstract format
Because a lot of information needs to be packed into a short paragraph, an abstract is easier to write when you break it down into the key elements. For a first draft, spend a few minutes on each of the six steps, only writing down one or two sentences.
Rationale – Ask yourself why you are researching the topic and what is the context for your work. Here you should communicate the purpose of your study within the wider field.
Research question – Now you should specify what the exact goal of this piece of research is. What question are you providing the answer for?
Evidence and methods – After discussing the broader purpose of your work you now need to let the reader know what you have actually done. Try to summarise your methods and evidence with a few keywords to keep if brief. Some examples include qualitative, quantitative, archival or experimental.
Results – Here, you should summarise your outcomes and highlight what is new or significant about your findings.
Conclusion – The conclusion should relate back to your rationale and research question. Ask yourself, 'what do the results mean?'
Implications and applications – Lastly, the reader needs to know why your results are important to the field. You need to specify what is significant about this work and how it can be useful.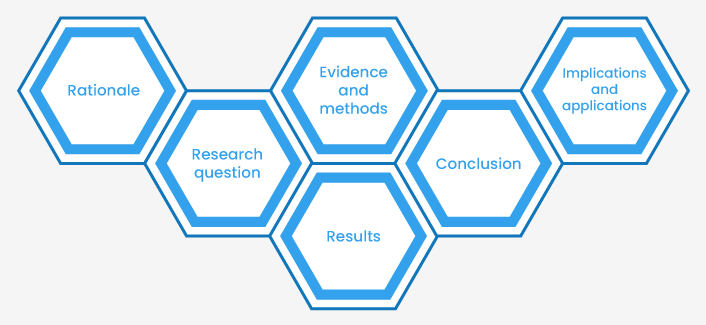 Once you have your framework it can be edited for a more natural flow. You may find that some points naturally merge into one sentence and others need some elaboration. But remember, the abstract must be short and concise so don't be tempted to extend areas unnecessarily. Once you have a draft that you are happy with, consider asking for feedback from other PhD students or your supervisor.
Doing a PhD
For more information on trhe different stages of a doctorate, check out our guide to the PhD journey.
Last Updated: 02 December 2021