Personal Statements for PhD Study
Written by Mark Bennett
Universities often ask prospective students to provide a personal statement for PhD study. This is likely to be a key part of your PhD application.
Whereas your research proposal explains the potential of your project, your personal statement (also known as a PhD statement of purpose) demonstrates your suitability for doctoral work in general.
Writing a PhD personal statement can seem challenging, but it's also a valuable opportunity to state what you have to offer and 'sell yourself' as a PhD candidate.
This page explains how to write a PhD personal statement, including suggestions for an effective structure and some additional tips for success.
Pick the right programme for you
There are lots of choices, let us help you to make the right one. Sign up to our weekly newsletter for the latest advice and guidance from our team of experts.
A personal statement provides additional information on a PhD applicant's academic background, relevant experience and motivations for undertaking postgraduate research.
It is different from a PhD proposal, which outlines a particular research topic, explaining its aims, methodology and scholarly or scientific value.
Put simply, if a PhD is a unique individual project (and it is) then your personal statement shows that you're the kind of unique individual who can complete one.
The form it takes can vary. Universities may include a space for a personal statement in their application materials, or they might ask you to submit it as a separate document or in place of a covering letter. Make sure you check what's required before you start writing.
Will I have to write a personal statement for a PhD programme?
Not necessarily. Some PhD applications don't actually ask for a separate personal statement. This may be because the admissions tutors want to focus on your research proposal instead (and leave other details for interview questions).
A personal statement is very likely to be requested if you you're applying to an advertised project with pre-defined aims and objectives (and aren't submitting your own PhD proposal). If so, it will be your main chance to say why you're the best student for this position.
Who will read it?
Your PhD statement may end up being read and considered by various people:
Admissions tutors will check that you have relevant experience and qualifications for this programme and that these are up to the standard expected of a PhD candidate.
Potential supervisors will be interested in your specific academic background as well as your motivations for working in their department or research group.
Interview panellists (who may include admissions tutors and supervisors) will probably consult your personal statement when preparing questions for you.
These people will be interested in slightly different things, but don't worry: a good statement should be able to satisfy all of them.
What is a PhD statement of purpose?
If you're applying for a PhD programme at an American grad school, you may be asked to provide a 'PhD statement of purpose'.
A PhD statement of purpose (SOP) is your chance to demonstrate that you're an ideal fit for the grad school in question.
It's essentially the equivalent of a personal statement, but you should check the application details for your preferred institution to make sure you're covering everything you need to. Always follow the conventions of the country that your prospective programme is in.
How to write a PhD personal statement
Crafting a good PhD personal statement requires discipline and planning.
Writing about yourself may not seem particularly hard, but selecting, sequencing and organising your material can be harder than it seems. You know a lot about you, after all, but you only have so much time and space. Speaking of which:
How long should a PhD personal statement be?
A PhD personal statement should be 400-500 words, fitting on one side of an A4 sheet of paper. Your university may set a specific word count or maximum length, so make sure to check the application details.
Either way, you should aim to be disciplined and concise. There are two reasons for this:
One is that the ability to think – and express yourself – clearly is a key PhD skill in all subject areas. There's no harm in demonstrating it now.
The other is that admissions tutors and prospective supervisors are people. People who may well have a lot of personal statements and applications to assess, besides yours. If you give them a long essay to read, they might not.
How should I structure my statement?
The sequence above actually provides a good 'spine' for a personal statement (with roughly a paragraph or two for each section):
Start with a quick introduction, explaining who you are and what your background is. Try to have this progress naturally into your research interests and your choice of PhD and university.
From there you can move on, logically, to expanding on your skills and experience and how these make you a good fit for the PhD in question. If you wish to comment on other areas of your CV, do so at appropriate points here.
Finally, you can conclude with a section on your longer-term goals and aspirations.
What writing style should I use?
The 'personal' aspect of your statement should extend to its content (it's a document about you) but not necessarily to its tone (it's also a professional document, part of an application for a specific role).
That doesn't mean you can't express yourself (your reader will want to see that you're passionate about your subject and enthusiastic about PhD research) but keep things professional and relevant.
These guidelines should also extend to way you write. Try to stick to short sentences and express yourself with clarity and precision. After all, a personal statement that's easy to read is more likely to be read.
The exact content of your PhD statement of purpose will depend on the kind of project you're applying for and the requirements set by your university.
You should check the latter carefully. If the admission guidelines ask for your personal statement to refer to specific details (such as motivations, career goals, your choice of university, etc) make sure it does.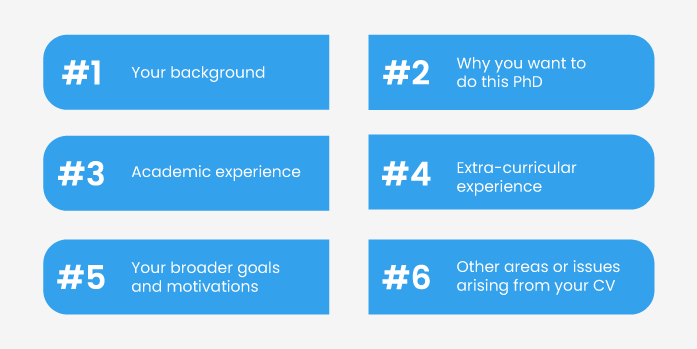 In general, your PhD statement should cover the following topics:
1. What is your background?
Keep this relevant (and fairly brief). Admissions tutors and supervisors will be interested in what's brought you to choose a PhD, but they won't need to know your life story (and you won't have time to tell it to them).
If your interest in your subject was inspired in childhood, feel free to say so. But focus on the interest, not the childhood.
2. Why do you want to research this topic?
Every personal statement needs to explain your motivation for taking on a PhD, but what you include here will depend on the kind of PhD you want to take on.
If you're also submitting a separate research proposal you should probably focus more on why you want to research a PhD than the specific topic you're proposing to research (that, after all, is what your research proposal is for).
If you're applying for an advertised project (and not proposing your own research) you should say something about your interest in that PhD: what interests you about it and what you can bring to it.
3. What academic experience do you have?
Your personal statement isn't a CV, so avoid simply listing qualifications you've detailed elsewhere in your application (on your CV, for example).
But your personal statement is a chance to comment on your CV and explain the significance of those qualifications for your PhD application. This is vital if you want to stand out from the crowd.
Most PhD applicants are academically excellent. Be proud of your own results, but explain what those degrees (including specific units and dissertation projects) taught you about the subject you now want to research.
What extra-curricular experience do you have?
Another way to build upon your academic qualifications is to include other experience that has also demonstrated (or developed) relevant skills for your PhD.
Again, relevance is key. You may also wish to include one or two examples of your wider experience and achievements, but the focus should be on your suitability for PhD study.
Examples of your character and qualities may be relevant for some projects – particularly those with a charitable focus, human-interest angle or clear social benefits / outcomes. Otherwise, try to stick to relevant skills such as organisation, independent project management, self-motivation, etc.
What are your broader goals and motivations?
It's a good idea to say something about how this PhD fits into your wider aims and career goals.
The specifics of what you plan to do after your doctorate may not matter to your admissions tutors, but the fact that you have plans and can show that a PhD fits them demonstrates that you've thought seriously about a doctorate and are likely to commit to overcoming the challenges it involves.
Are there any other areas or issues arising from your CV?
Your personal statement is a great opportunity to expand upon your CV.
That could mean providing more detail about academic degrees (as above). But it can also mean explaining any gaps or irregularities and anticipating some of the questions they might raise.
Perhaps you didn't do as well as you hoped on your undergraduate degree, but went on to find your niche and succeed with a more specialised Masters. It's OK to acknowledge and explain that if so – particularly if your Masters relates closely to your PhD.
Similarly, if there's a gap in your CV, it's better to explain it than leave any begged questions – particularly if there's a perfectly good reason why you weren't working or studying at that point.
Some of the ingredients for a great PhD statement vary from project to project and from student to student (it's a personal statement, after all).
But the following general tips are still worth bearing in mind:
Keep it relevant – Remember that this is a statement about you as a potential PhD student, not just a statement about you.
Don't duplicate your research proposal – A personal statement and a research proposal are two separate things. If you're submitting both, make sure they cover different (and appropriate) ground.
Be honest – If you're lucky, the content of your personal statement could end up informing questions at your PhD interview. Don't let embellishments or inaccuracies turn those into awkward questions.
Look for guidelines – If your university asks you to cover something specific in your proposal, make sure you do so. The same applies to space limits or word counts.
Think of the statement as a beginning, not an end – Resist the temptation to include everything, 'just in case'. By focussing on the most important elements you'll improve the clarity of your statement and increase your chance of covering other details at your interview.
Address questions arising from elsewhere – If there's a gap in your CV or an issue with one of your references, your personal statement can be an opportunity to (briefly) explain that.
State, don't plead - This isn't a letter asking to be given a PhD place. It's a statement showing why you should be given a PhD place. That's even more important if there's funding involved.
Be confident – By the same token, don't be afraid to demonstrate self-belief. Express your skills and achievements honestly, but be proud of what they represent.
Finally, before you submit your statement (and the rest of your PhD application) ask someone who knows you to read it. They could be a friend, an employer, a current tutor or even one of your referees.
Either way, they'll have a fresh perspective on your statement and will be able to tell you if it makes sense and comes across effectively. If they know you (and your work) well enough they may also be able to spot any details you've missed, or suggest ways to improve what you have included.
Ready to apply for a PhD?
Head over to our course search to find PhD opportunities and get in contact with universities.
Our postgrad newsletter shares courses, funding news, stories and advice
Last Updated: 10 July 2023