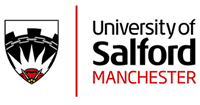 Manchester
Visit Website
Website
IP007400
PhD programmes here

PhD programmes at the University of Salford
Who we are
The University of Salford is located across three campuses - Peel Park, Frederick Road and MediaCityUK. Although we have multiple campuses, travelling here couldn't be easier, with transport links connecting our campuses to Manchester city centre and beyond. We have a wide range of research facilities, laboratories and clinics, including Energy House and THINKlab.
Our campus is just 2km from Manchester city centre, providing our students with opportunities to make these connections in an international city that's home to many growing industries that collaborate with us.
At Salford, we recognise that innovation involves the creation of knowledge through fundamental research and we facilitate its adoption through applied research, knowledge exchange and technology transfer, industry placements, and research and enterprise consultancy.
Research at the School of Science, Engineering and Environment, University of Salford
Our research areas
By choosing Salford, you'll be joining a large aspirational community of postgraduate researchers exploring topics across a suite of interdisciplinary research centres. Whether you've been planning your research for a while, or you've found fresh perspectives during the pandemic, the University of Salford is ready to help start your research journey.
The School of Science, Engineering and Environment (SEE) brings together research fields under:
Our researchers
By pursuing a PhD or other postgraduate research degree at Salford, you'll have the opportunity to work with some of the most prolific researchers and leaders in research and industry. You'll become a part of an inclusive community in which collaborative and interdisciplinary research can flourish.
Click here to meet our staff.
Facilities, support, and training for postgraduate researchers
At Salford, each doctoral researcher develops their thesis with experienced academics who are experts in their fields. Their supervision is supported by our dedicated Doctoral School where we offer PhD and Research Masters-specific training that ranges from research support, career coaching and opportunities to contribute to our annual Salford Postgraduate Annual Research Conference (SPARC) and The Festival of Research.
We are committed to supporting our postgraduate researchers in fulfilling their goals and potential beyond their time at the university.
Who we're looking for
There is no such thing as a typical Salford PhD researcher as people join us from all over the world, at all stages in life, adding their life experiences and unique journeys to our collective knowledge and expertise. We are looking for innovative ideas and committed individuals who are passionate in driving their research that responds to timely and pressing challenges in the social, economic, natural, and built environments.
Whether you're researching for academia or for business, postgraduate researchers choose Salford to explore the areas of research they're passionate about. They are able to take advantage of our world-class training and support that is tailored to their individual needs and can benefit from development opportunities that enable them to fulfil their potential.
How to apply
For further information and details on how to apply, please visit:
www.salford.ac.uk/postgraduate-research/apply
Academic Units

From starting as a Royal Institute in 1896, then the College of Advanced Technology, to receiving its University charter in 1967, the University of Salford has always been a place where original research is combined with applications for industry.

The School of Science, Engineering and Environment brings together several high-profile research centres across STEM disciplines, and strong industry links around key strategic priorities in Industry 5.0, Healthy Living, Sustainable Environments and Creative and Resilient Communities.

Be it robotics and automation, data science and cybersecurity, acoustics, materials science or biomedical science, or the interface of the built and natural environments, we attract significant investment from research councils and charities in the UK, the EU and further afield to deliver impactful research with our industry partners.

Project List: