How to Find a PhD With International Funding
From study abroad to applications and career prospects, we provide a wide range of advice here on FindAPhD. It's a big part of what we do and one of the reasons we keep you updated with new content each week.
But it's easy to forget what our site was originally built for: finding PhDs!
Listing thousands of unique project opportunities and making them easily searchable is actually a tricky thing to do, but we think our solution works pretty well (and we're almost always improving it, behind the scenes).
Of course, part of the challenge you'll face as an international student isn't just finding a PhD, it's finding one with funding. But our search can help with that too.
This blog explains how.
Step 1 – pick a subject area or topic
There are usually between 4,000 and 7,000 current opportunities listed on FindAPhD. So, the first thing to do is to narrow down to the ones you're actually interested in. There are two ways to do that.
The first way is to select a discipline. For this example, I'm going to pretend I'm looking for a Bioscience PhD. So, I select the Biological and Medical Sciences discipline: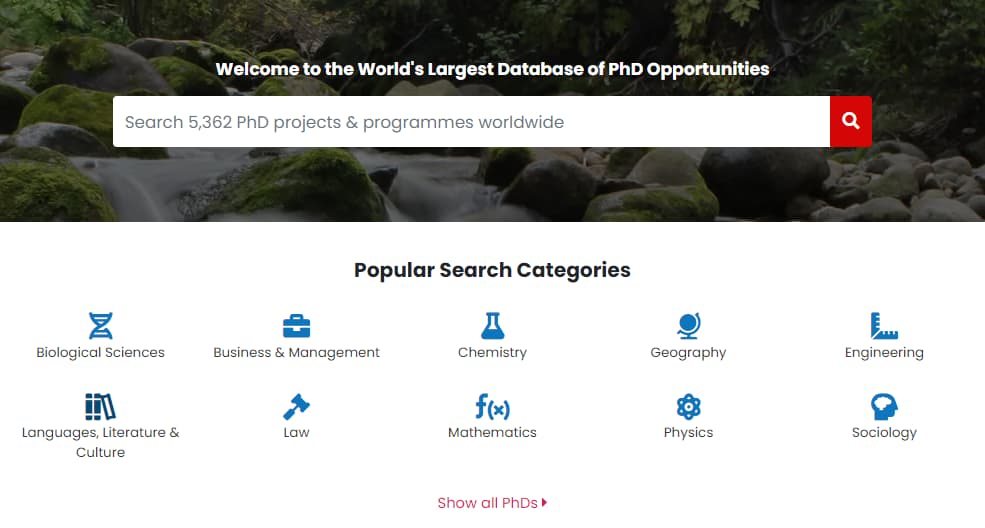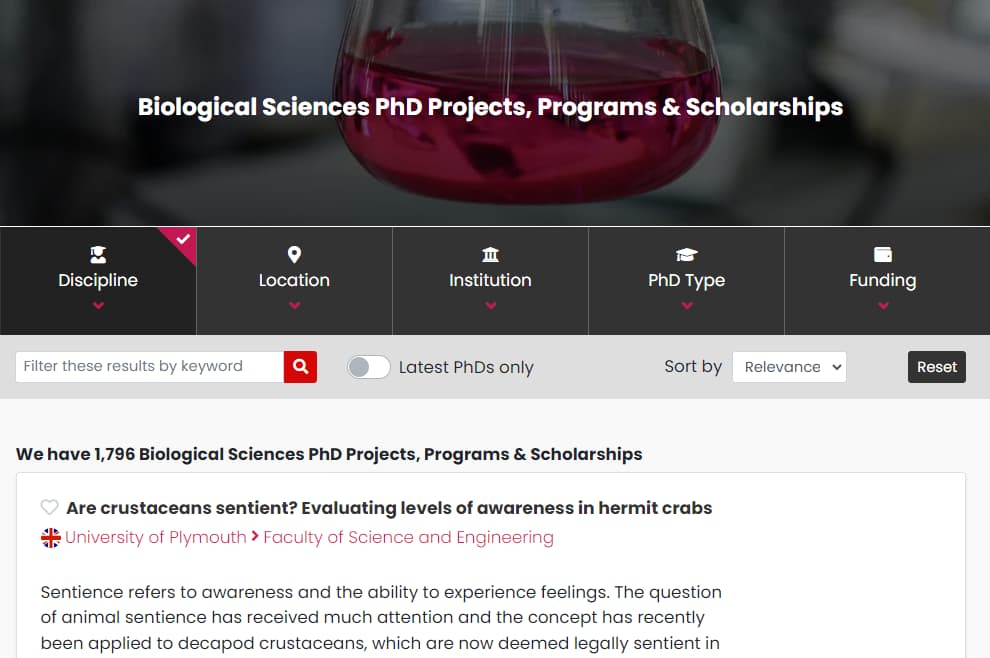 Instead of over 5,000 projects to read through, I've now got... 1,796. That's still going to take a while.
I could try 'drilling down' further into the specific subject area that most interests me, which is Microbiology: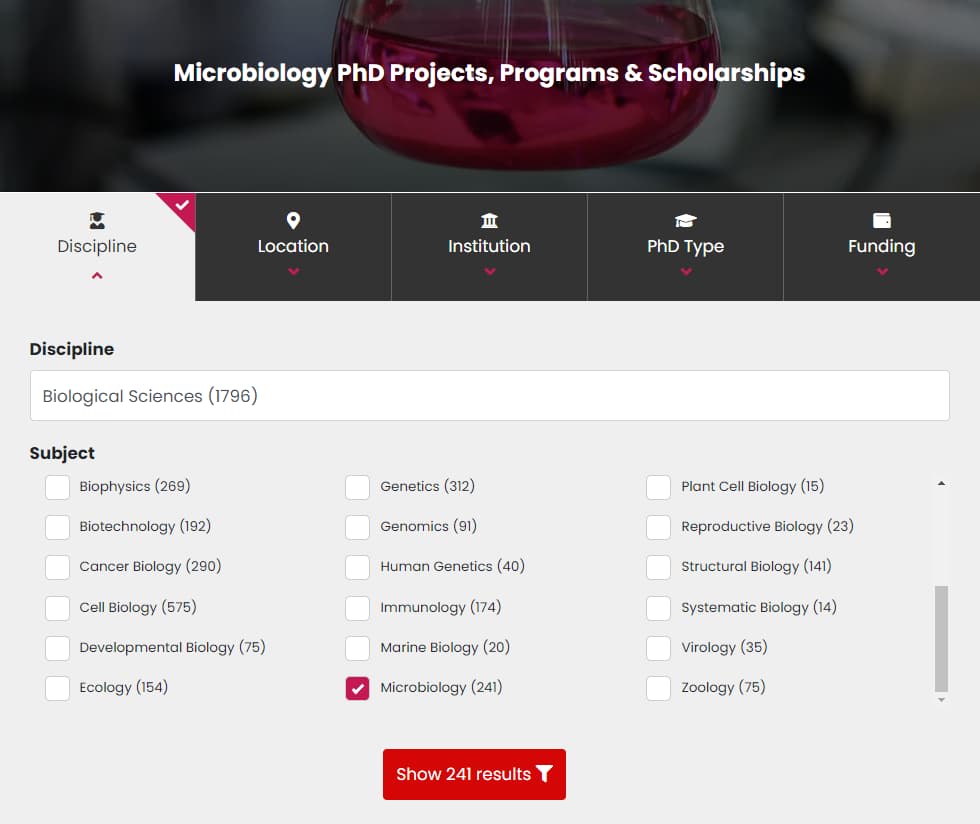 That's still 241 projects to look through though and I'm lazy. Plus, we're only on Step 1 here.
So, I'm going to try a different approach and use a keyword search. This is a good idea if you know what you're looking for and don't want to browse through a particularly 'busy' discipline, like Biosciences. (Of course, if you aren't quite sure what you're interested in, browsing projects is one of the best ways to find out.)
I really want to study pathogens, so I'm going to enter that as my keyword search, leaving me with a much more manageable set of 38 PhD projects: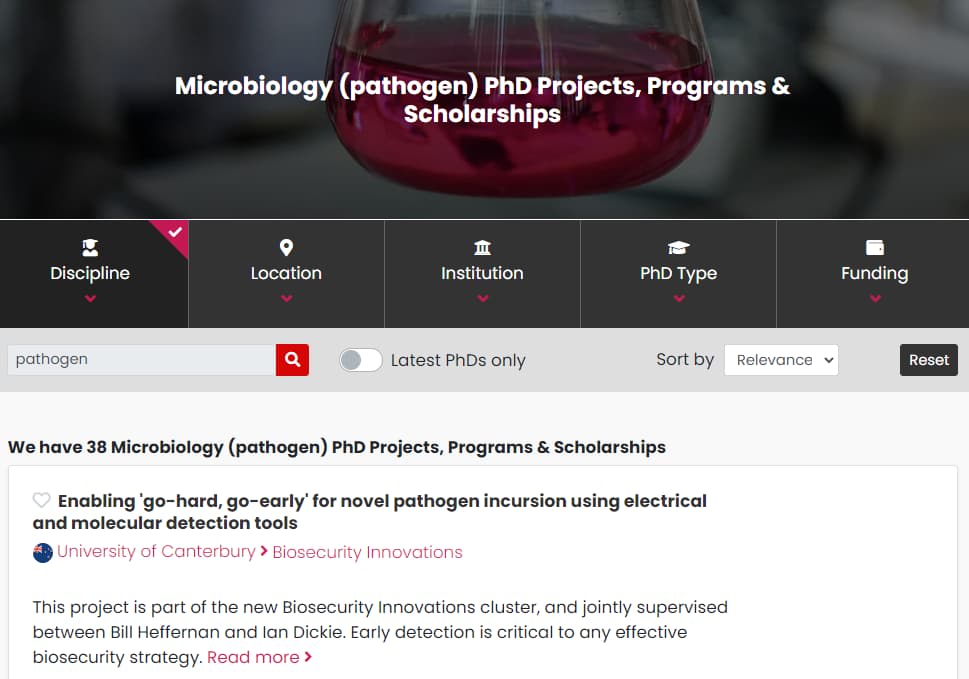 Step 2 – find projects with international funding
This is the important bit. Most of the 38 different projects I've found will have some sort of funding available (it's relatively rare for STEM PhDs not to) but not all of this funding will be available to international students.
Thankfully, our search lets me select only the projects that have international funding: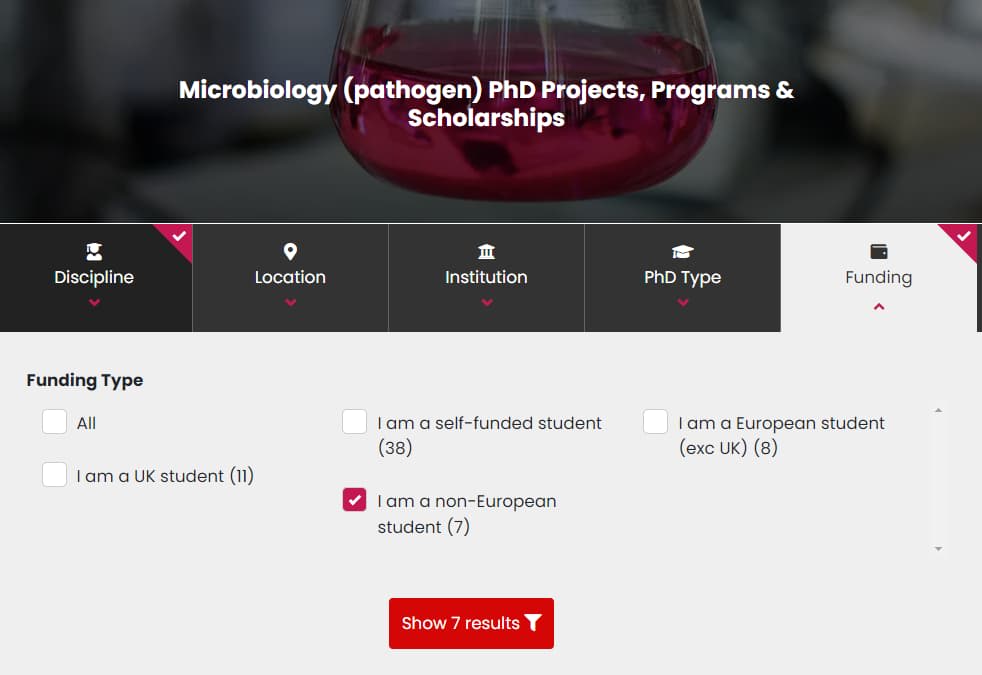 Of the 38 projects related to my topic, there are 7 that have funding available to international students. It's not a huge number, but it's definitely enough to be getting on with for now. New projects are also being added all the time, so I can sign up to the FindAPhD newsletter if I want to hear about these.
I can now look through these projects and make sense of my options, because there are actually two types of funded project here.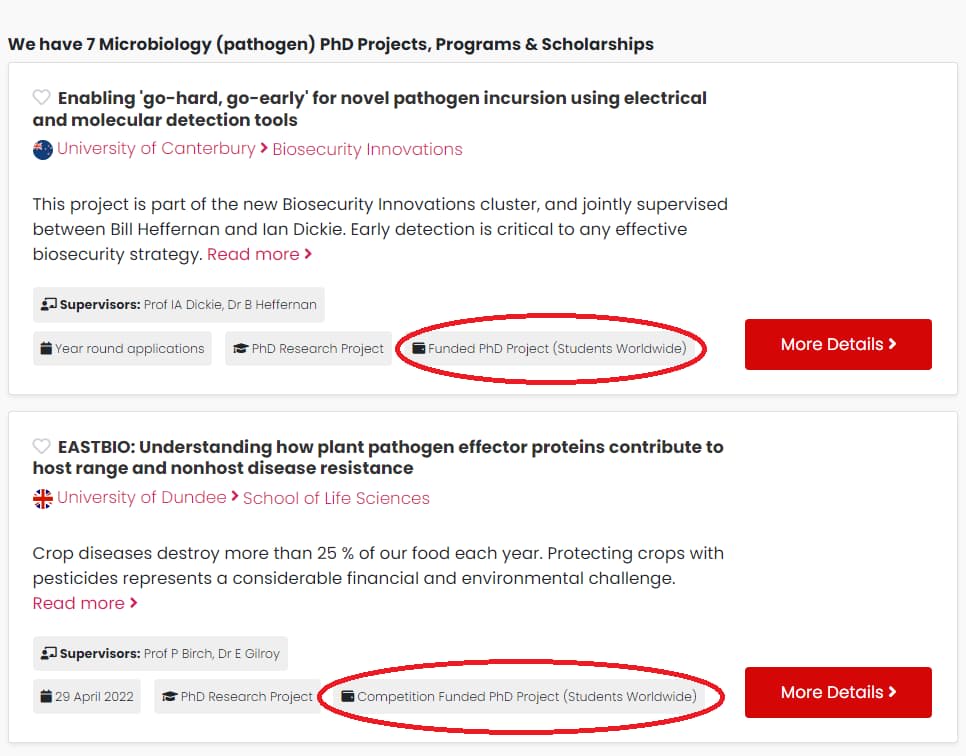 Both of these projects have international student funding, but they work a little differently:
The funded project definitely has funding (it's in the name) and will award this to the student who successfully applies for the project.
The competition funded project has potential funding. It's actually competing with other projects at the same university, with the PhD that gets the best applicant getting the funding.
Both projects are good options (provided they're the sort of thing I'm looking for – these examples might not be). But it's worth bearing in mind that my application for the competition funded projects may need to be more competitive (again, it's in the name).
Anyway, now that I've found a funded project (or projects) it's time for...
Projects like the ones I've found are essentially job adverts: a supervisor has defined the research question and brought together the necessary resources and facilities, now they're just looking for the right student to tackle it. This means that everything I need to apply for the PhD should be right there in the description.
In particular, I'm looking for:
Supervisor information – This is the person I'll be applying to work with and it may be a good idea to contact them before I do (some universities will specifically ask international students to get in touch and check eligibility before they apply)
Application deadline – This one is pretty important: advertised PhD projects will almost always have a deadline, particularly if they're competition-funded
Funding notes – I know this project potentially has funding available for non-UK / EU students, but I should check how it works: there might be some restrictions on specific nationalities, or other eligibility criteria (I also want to check how much funding is available and make sure it's enough)
Anyway, I can get pretty much all of this information through the project description, like so: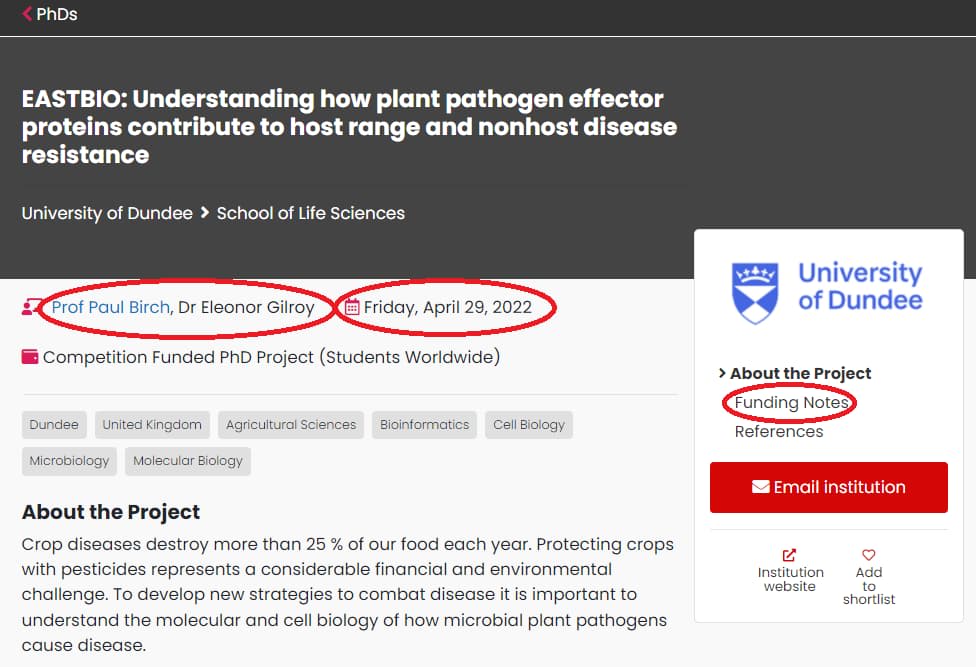 So, I know who the supervisor is (and it turns out I do have to contact them in this case). I also know when to apply by (alas, the deadline for this particular project will have passed by the time you read this blog). Finally, I can follow the link to find out more about the funding available for this project (the good news is that it seems to be a full scholarship, available to all international students).
I can also use the "visit website" and "institution profile" links to find out more about this project and the department offering it – worth doing if I want to put in a really strong application.
What if I don't find anything?
I've deliberately picked a subject area and search that allows me to walk through the 'full process' for finding international PhD funding (this blog post wouldn't really work otherwise).
Chances are things won't always be quite as smooth – and the truth is that there are fewer projects with international funding. But don't give up!
New PhDs are added to FindAPhD every week. You can come back and check for them, or you can sign up to our free newsletter, tell us what subjects you're looking for and we'll just email the latest batch to you every Sunday morning (yes, really).
Good luck with the search!
Our PhD newsletter shares courses, funding news, stories and advice


Last Updated: 30 March 2023