The Rollercoaster Ride that Led Me to Becoming a Teacher and PhD Supervisor
Clive Palmer is currently a Senior Lecturer in Physical Education, Coaching and The Outdoors at the University of Central Lancashire (UCLan). But this hasn't always been the case! He started off as a carpenter, then apprentice engineer with the RAF before deciding teaching was more his style. He's taught outdoor education and science from primary school age all the way through to university-level.
During Covid-19 lockdowns, Clive set up Clive's Learning Shack, creating a supportive online community, keeping 50 research students on track with their studies. No wonder he won our PhD Supervisor of the Year award! We chatted to him about what it's like to be a teacher/supervisor.
#1 Why teacher training?
In the Air Force, as well as my engineering role, I'd become a rock climbing instructor. I was leading expeditions around Europe in the Air Force and I thought I really enjoy teaching people and seeing them confront their fears and take responsibilities for others as a result.
I went into teacher training at Liverpool John Moores (it was Liverpool Polytechnic back then) for outdoor education and science as a mature student.
#2 What did you do once you were trained?
While I was training, I actually did primary school and secondary school work to pay for my degree. I studied part-time so it took four years to complete. After I'd completed my training I started working in further education, running a National Diploma in Sports Science. I'd designed it as sports science with outdoor education to cater to my interests. That then branched off into a lot of other opportunities including using outdoor pursuits in referral work, coaching adults with special needs, and training at other community centers in the area around Cheshire.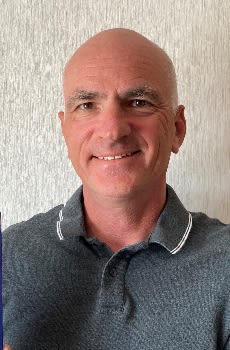 #3 What group of people do you enjoy teaching the most?
I've taught primary, secondary, further education, Youth Services, adults with special needs, first, second and third year undergraduates, but my favourite group are adults with learning difficulties. Out of all of them, they're the most honest and they just tell you how it is. They're wonderful to work with. I wish PhD students would do the same!
#4 How did you become a PhD supervisor?
I decided to become a PhD supervisor because there wasn't anyone in the department who could supervise a student at that point. I did the training and started off supervising a couple of colleagues. Around three quarters of the people I supervise now are staff around me in UCLAN so it's been a CPD (Continued Professional Development) drive to support staff.
#5 As a supervisor, what do you want from a PhD student?
I want people to be living their dreams so you know they're fully committed to the project, because then I can fully commit to them. I want them to be passionate and enthusiastic about their research. My job as their 'academic coach' is to help pace that energy with peaks and down-time, so it doesn't become a burden. Bring your passion – enjoy your learning.
#6 What's challenging about being a PhD supervisor?
It's been quite hard managing people's expectations. I've learned to do that a bit better right from the start now, so we have structure towards a manageable end. Working with people starting off projects can also be challenging because it's a slow burn and will go through highs and lows.
#7 What gets you excited about PhD students?
What really gives me a buzz about the whole gig is not necessarily the job, but seeing the learning button being switched on. And that can happen at all stages through their learning when they're getting deeper and more involved in their project. The sign of a healthy project is when you're drowning in data – and I love seeing them work through it as I'd be worried if they didn't have any.
#8 What are some of the projects that you're supervising?
I've always said to people, don't just study the thing because that's what you're teaching, study something that you're really interested in.
I have a clinical health nurse whose son was getting bullied in rugby so she's doing a touchline study and ethnography of abuse in rugby league. It's brilliant, and nothing to do with being a registered health nurse. I've got a clinical person in psychology and health who is also an artist so is co-producing art with people with depression. I've got a drummer who is teaching PE through music.
I enjoy examining too and I've examined projects on subjects from genocide to the Hiroshima bomb. I've just examined one on the influence of the Mafia. The one thing that links them all is qualitative research methods, which is why I can offer critical discussion around how a piece of research was conducted.
#9 What are you most proud of in your career so far?
It's got to be creating the conditions for people to feel buzzed about learning. It's almost like a nest where they can feel it's ok to experiment with their thoughts and not fear failure. In sport we're quite accustomed to failure because 90% of the time that's what we do. We've just recruited someone who is 63 and wants to do a community arts-based project for primary schools in disaffected communities. For her, her work will now be valued in a way that she never thought it would be. A brilliant opportunity for the PhD student and those she'll work with in the community.
#10 What advice would you give to someone who was interested in becoming a lecturer?
Trust that there's enough in your head to introduce an idea to the class and not be stuck to a PowerPoint. I dare my PhD students (staff) to go into their class with just a pen. There is value in your voice and thoughts. Everything else can come through PowerPoint and be justified by third party literature. You always need to provide resources but these young people aren't turning up to get the PowerPoint, they're turning up to listen to you.
I'd also say, start as you mean to go on by laying down the foundations for writing. Have this undercurrent of quality running through your teaching. As a university lecturer asking students for essays, it always seemed reasonable to me to say "I don't accept sloppy writing", something I have applied from undergraduate to PhD level.
Our postgrad newsletter shares courses, funding news, stories and advice

Last Updated: 06 October 2022